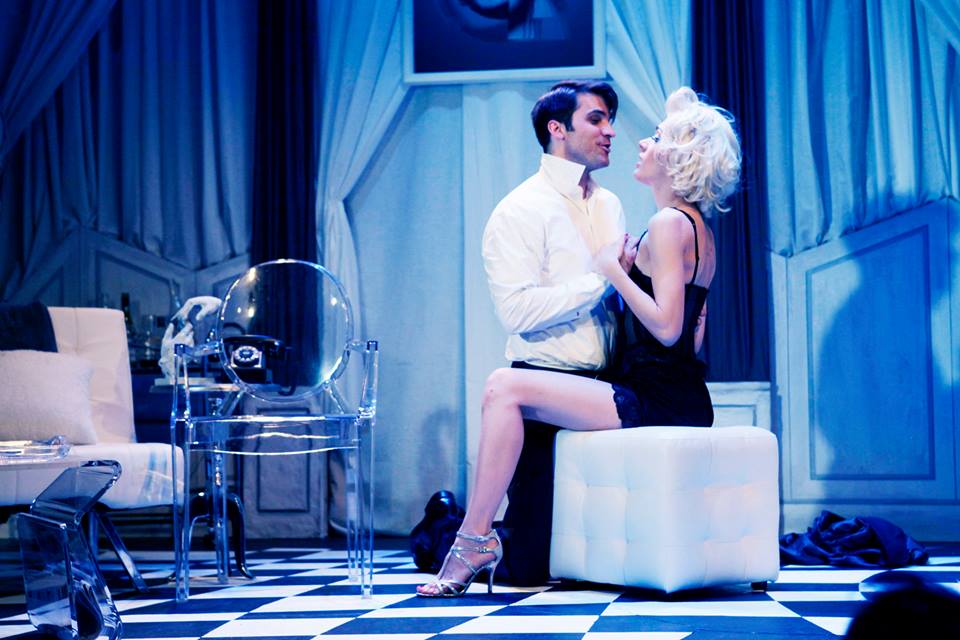 "BOTTOM LINE:  Our highest recommendation!   A white-hot enactment of the imagined relationship between the two most notable women in JFK's life, and POTUS himself, mixing sex, politics, and passion in an incendiary theatrical combination." NYTheatre Buying Guide
CHARACTERS:
Jacqueline Kennedy
Marilyn Monroe
John F. Kennedy
SETTING:
Various, suggested:
White House Breakfast Room
A Party
Bing Crosby's House
Lincoln Room
Marilyn Monroe's Brentwood House
A Boat on the Potomac
Horse Riding Ground in India
RUNNING TIME:
90 Minutes
HISTORY:
Off-Broadway run at The Lion Theatre, Theatre Row, NYC
SAMPLE DIALOGUE:
JOHN: I'm your biggest fan.
MARILYN: The admiration is mutual, Mr. President.
JOHN: I enjoyed the Seven Year Itch very much.
MARILYN: Billy Wilder. It's one of my favorites.
JOHN: It certainly looked like you were having fun. Billy Wilder, huh?
MARILYN: That's right.
JOHN: Let's see, how long have I been married?
MARILYN: Please don't, Mr. President.
JOHN: Don't…?
MARILYN: Usually, right about now, men tell me they've been married exactly seven years.
JOHN: It really is a common pick up line, huh?
MARILYN: Pretty much.
JOHN: I didn't mean it like that.
MARILYN: I know you didn't.
JOHN: I surely do like the movie.
MARILYN: Thank you.
Beat
MARILYN: How long have you been married?
JOHN: Seven years.
MARILYN:(Laughs)No. Really?
JOHN: Feels that way, sometimes.
MARILYN: That's the next thing they say.
JOHN: Boy, I really am a cliché, huh?
MARILYN: A little. But I like it.
Please note, purchase is for the script only and does not include production fees or royalties. It does not mean performance permission has been granted. This must be confirmed with the playwright and requires a contract. The script will be emailed to you, once purchase has been confirmed. This may take up to 24-hours. Thanks.